Visita al Alcázar de Gibralfaro
Malaga is a city with a long history dating back to the Phoenician civilization. Today Malaga is the second most populous city of Andalusia. 10 million travelers arrive every year to Malaga airport. The whole world knows Malaga as the capital of the Costa del Sol. A sun that not only illuminates the leaves, pierces through the leaves of the fichus and reaches the ground, feeds the Muscat grapes, climb inside the roots and trunk of the olive trees to become olives and but also gives a bronzed skin on the beaches and enhances the mood of the depressed. In Andalusia there is a saying that the sun is loved at dawn, despised during siesta, passionate at sunset and finally missed during the night.
For many years the sun did not penetrate this megalithic burial place located in Antequera, less than 50 km from Malaga airport. It´s worth a visit if you have rented a car in Malaga with Fetajo Car Hire Malaga Airport.
You can see the stones that bear witness of a culture developed in this area for more than 4,500 years ago, but the origin of this city of 600,000 is Phoenician Malaca. Later it passed into the hands of the Carthaginians and Romans thereafter. But most of all it was under Muslim regime for more than 500 years. It had a prosperous nineteenth century and the twentieth century it witnessed the disaster that later would lead to the dictatorship of Primo de Rivera.
The Romans built the theater on the hillside, a theater which was discovered only 50 years ago. But perhaps the preserved monument should be more highlighted still showing the Arabic presence in Malaga. The Alcazaba in Málaga, another point that, if you travel to Malaga and rent a car with Malaga Airport car hire Fetajo, is worth a visit.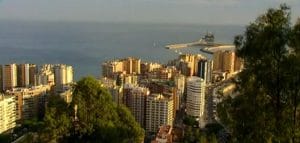 The Alcazaba was a place of Roman settlement but was used by the Arabs during the caliphate. It´s a defensive construction that also contains a palace. This double function is an idea that was repeated in other monuments such as the Alhambra in Granada.
Gibralfaro, is situated in the central part, the cove of Malaga, part of the southern foothills of Montes de Malaga, a mountain range formed by the ridge Penibética, of complex tectonic material. The mountain is covered by a thick forest of pine and eucalyptus. On the top lays the castle or fortress of Gibralfaro, and below, are other monuments and historical buildings like the Alcazaba, the Roman Theatre, the Seminary and the Dark Gate Garden. From that height the view of the bay is stunning.
Not many Muslim remains are found in Malaga, but you can still visit the market Atarazanas where you can admire the fantastic Nazari porch at its entrance.